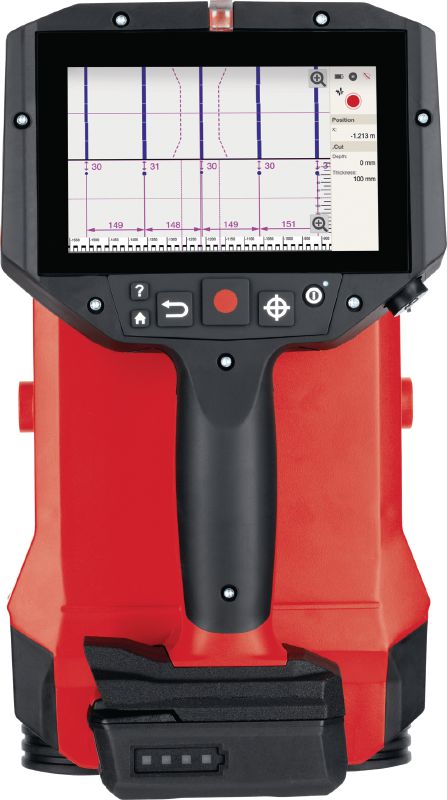 Move cursor over image to zoom.
Click on image to zoom.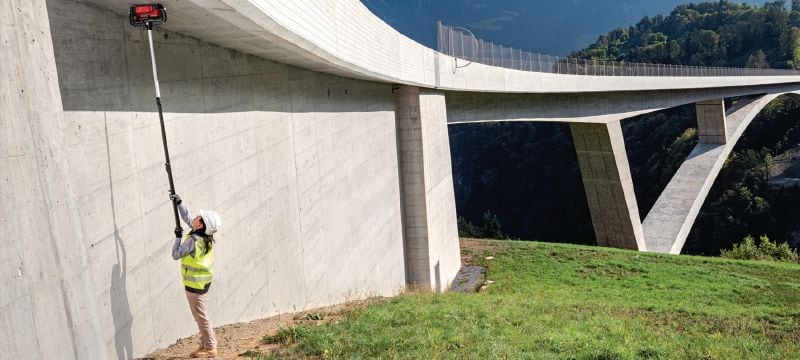 Move cursor over image to zoom.
Click on image to zoom.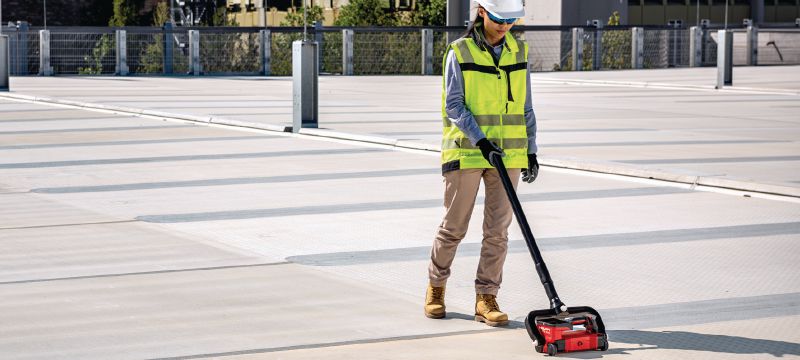 Move cursor over image to zoom.
Click on image to zoom.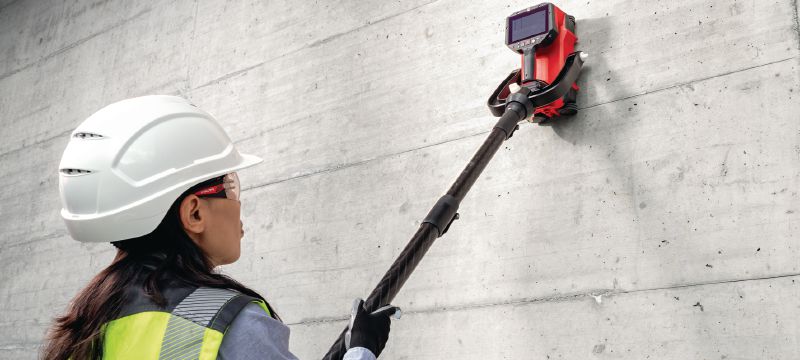 Move cursor over image to zoom.
Click on image to zoom.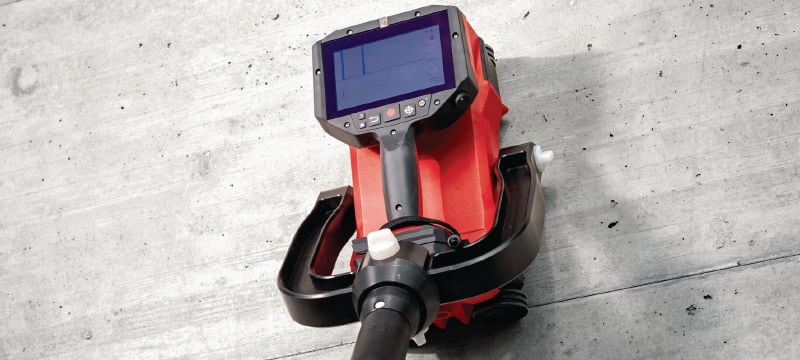 Move cursor over image to zoom.
Click on image to zoom.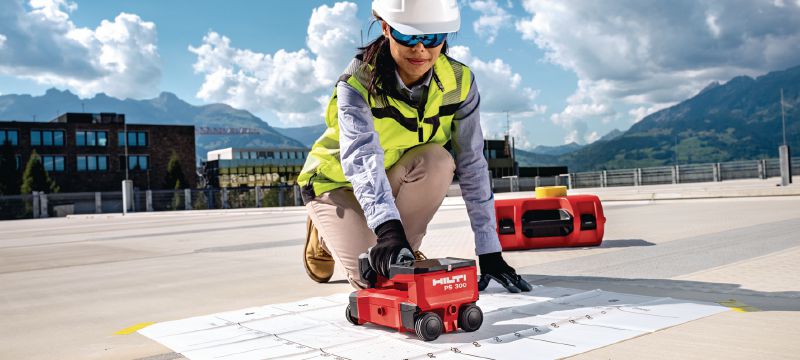 Move cursor over image to zoom.
Click on image to zoom.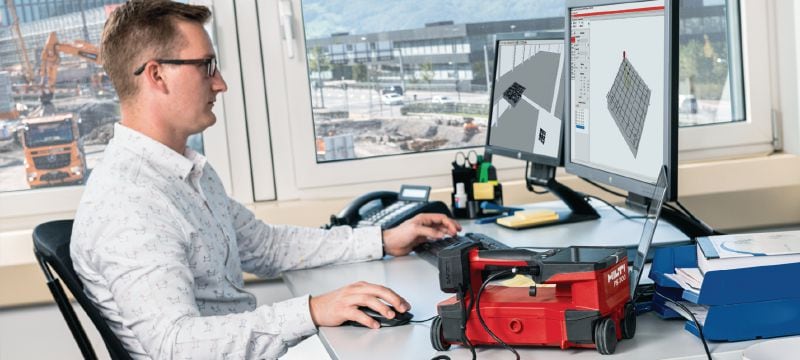 Move cursor over image to zoom.
Click on image to zoom.
PS 300 Ferroscan system
New product
Item #r9374764
Concrete detector for rebar localisation, depth measurement and size estimation in structural analysis
Max. detection depth for object localization: 200 mm
Localisation accuracy: 1% +/-3mm mm
Minimum distance between two neighbouring objects: 30 mm
More technical data
Features & Applications
Features
Integrated display provides rebar layout visuals in top view and sectional view for on-the-spot structural analysis
Smart algorithm helps accurate depth measurements for rebar
Wide sensor area enables quick and easy scan over large areas
Record scan data for documentation and structural analysis
Applications
Verification and analysis for 1st layer rebar
Checking concrete cover over large areas for structural repair work
Building acceptance inspections and quality control
Generation of structural assessment reports including statistics and visual presentation in 2D/3D views of areas
STRUCTURAL ANALYSIS FOR THE DIGITAL AGE
Smart. Simple. Solid. Introducing the intelligent PS 300 Ferroscan.
A new generation of intelligent detection tools is bringing the world of structural analysis into the future. Designed to simplify analysis jobs and help prevent errors both on-site and back in the office, the PS 300 Ferroscan is at the forefront of smart, connected detection devices. An integrated 5" touchscreen gives you a detailed, live view of hidden objects (e.g. rebar), helping you complete a structural survey or analysis in one site visit. Afterwards, data can be transferred to PROFIS Detection software for further analysis or shared in various formats. Survey or analysis reports can then be generated with one click.
Instant concrete scans with detailed documentation
See how the PS 300 helped locate reinforcement to ensure that a structure met all the specifications to withstand dynamic loads, temperature extremes, and seismic requirements. When scanning in remote locations like this, additional trips to the site could prove to be quite costly. Live scan results on screen help ensure data integrity and completeness, before returning to the office for more in-depth analysis.
SMART
Precision and accuracy for high-productivity analysis
With a large 5 sensor array, the tool collects multiple data points in one scan. The sensor surface is 15cm in length, and the tool is able to capture a scan distance of 50m with one scan. In other words, the PS 300 Ferroscan has been engineered to deliver more reliable, large-scale results in the shortest time. The scanner is powered by a standard Hilti 12V battery, so there are no cables to compromise the agility and reach.

Rebar detection up to 200mm depth
Rebar depth measurement accuracy +/- 1mm up to 40mm
Spacing and cover ratio limitation 1.2:1
Maximum scanning speed 0.5m/s
The full intelligence on-board the PS 300 Ferroscan is visible after you transfer scan data to PROFIS Detection on PC. This software is part of your toolkit for detailed structural analysis: filter visible details, compare scan data against reference specifications, export charts/statistics, create text/audio/picture annotations and even model locations to drill and core. You get a 3D view of the concrete wall or slab which can be exported for addition to an official engineering report and your CAD/BIM model.
SIMPLE
The fast track to becoming a structural analysis specialist
Create a master scan in minutes using the PS 300 Ferroscan, with real-time results and an easier-to-read user interface. Eliminate the number of extra site visits due to incomplete scan data and get straight to the structural analysis without wasting time. Gone are the days of fussy scans – with the PS 300 Ferroscan you can quickly access the diameter, cover depth, and spacing of reinforcement while also saving the information for use back at the office.
SOLID
Tough concrete scanners built for real construction sites
"Precise" used to mean "fragile". The PS 300 Ferroscan, however, is IP54 rated for robustness. The casing is engineered to help keep out dust and moisture – protecting your investment. Rubberized grips and a touchscreen which can be used while wearing gloves also help to prevent drops and knocks.